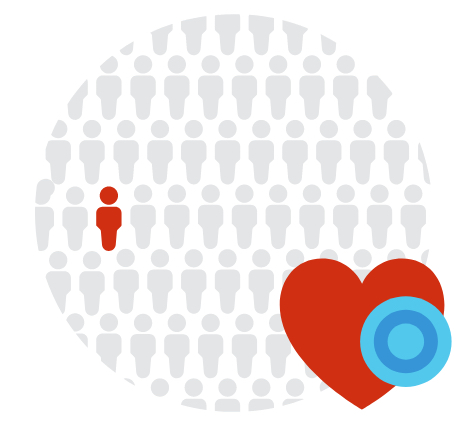 Starting today, 23andMe Health + Ancestry Service customers can access a new Health Community page, focused on hypertrophic cardiomyopathy (HCM), the most common form of inherited heart disease.
The new HCM Health Community page offers customers information and resources on this condition, which in most cases is caused by genetic variants that make the heart contract too much. As a result, the heart muscle becomes thickened and stiff, which can make it less efficient at pumping blood.
Symptoms of HCM can vary from person to person, but may include shortness of breath, fatigue, dizziness, fainting, rapid or fluttering heartbeat and chest pain. HCM is one of the most common causes of sudden cardiac death in young people, but most people with HCM develop symptoms in mid-life that worsen as they get older.
"23andMe is committed to supporting individuals who may suffer from under-diagnosed conditions," said Ruth Tennen, Ph.D., a Product Scientist at 23andMe. "We have thousands of 23andMe customers that have self-reported having HCM and see this as an important opportunity to educate our customers about this condition, and to provide those affected by the condition with links to resources and information to help them better manage it."
As with all Health Community pages, the information isn't based on genetic data; rather, it incorporates survey answers from 23andMe research participants to provide information about the condition, HCM research and statistics, and links to other resources. As part of the HCM community, 23andMe customers who have consented to participate in research will have the opportunity to contribute to research that advances knowledge about the condition, its causes and life with HCM. In the future the HCM community page will reflect data from this research project including things like the average age of onset for the condition.
This community page is part of a collaboration with MyoKardia to advance research into HCM. While MyoKardia is sponsoring the page, 23andMe is responsible for its final content. 23andMe is committed to providing our customers with scientifically and medically unbiased information about health conditions. As with all 23andMe Health Community pages, the information and recommendations included are based on peer-reviewed publications which meet high standards of scientific accuracy. MyoKardia is pioneering a precision medicine approach to discover and develop new treatments for serious cardiovascular diseases, including HCM.
"HCM is a chronic, progressive condition that can have a debilitating effect on daily living and carries the risk of serious co-morbidities such as atrial fibrillation and heart failure. Unfortunately, HCM is currently underdiagnosed and a number of misperceptions exists," said Richey Neuman, M.D., MPH, FACP, Vice President, Medical Advancement at MyoKardia. "We are committed to expanding knowledge of HCM and its treatment – for patients and their families, physicians and researchers. That's one reason we're excited to be collaborating with 23andMe to bring their customers with HCM an educational resource where they can get reliable information, as well as opting in to participate in research that will in turn generate a greater understanding of this frequently overlooked condition."
As part of the collaboration, 23andMe has launched a customer survey intended to collect baseline and follow-up longitudinal data from those who choose to participate. The survey will reach more than 9,000 23andMe customers who have self-reported an HCM diagnosis. 23andMe researchers, along with researchers from MyoKardia, intend to study this set of de-identified, population-scale phenotypic and genotypic data to gain unique insights into this condition for the purposes of understanding the patient experience and genetic prevalence of HCM. MyoKardia will only have access to aggregate results, not individual-level customer data.
The new HCM Health Community page is part of a collection of common health conditions that 23andMe Health + Ancestry Service customers can access to learn more about conditions and participate in research. Launched last year, there are now 19 of these Health Community pages, which cover conditions including depression, Parkinson's disease, migraine, insomnia, endometriosis and more.