February 28, 2017 at 12 pm PT/3 pm ET
Big Data and Human Health
Register to watch on demand (61 minutes)
In this webinar, Dr. Michael Snyder of Stanford University discussed the use of genetics and genomics in predicting disease risk; what other types of big data can be collected on individuals; and how this data can be used to manage health.
Dr. Snyder demonstrated the value of big data in medicine in a personal way. In 2012, his research into his own genome predicted risk for metabolic disorders. It was a landmark study that demonstrated how big data can add granularity and precision in medicine.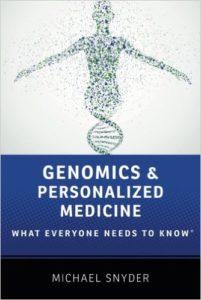 Topics: Genomics, Epigenomics and other omics, Wearables, Diabetes
Intended audience: health care professionals. However, this program may also be of interest to educators, researchers, students and lifelong learners.
For further learning
To learn more, check out Dr. Snyder's book, Genomics & Personalized Medicine: What Everyone Needs to Know.